AgriNovus Seeks Summer Intern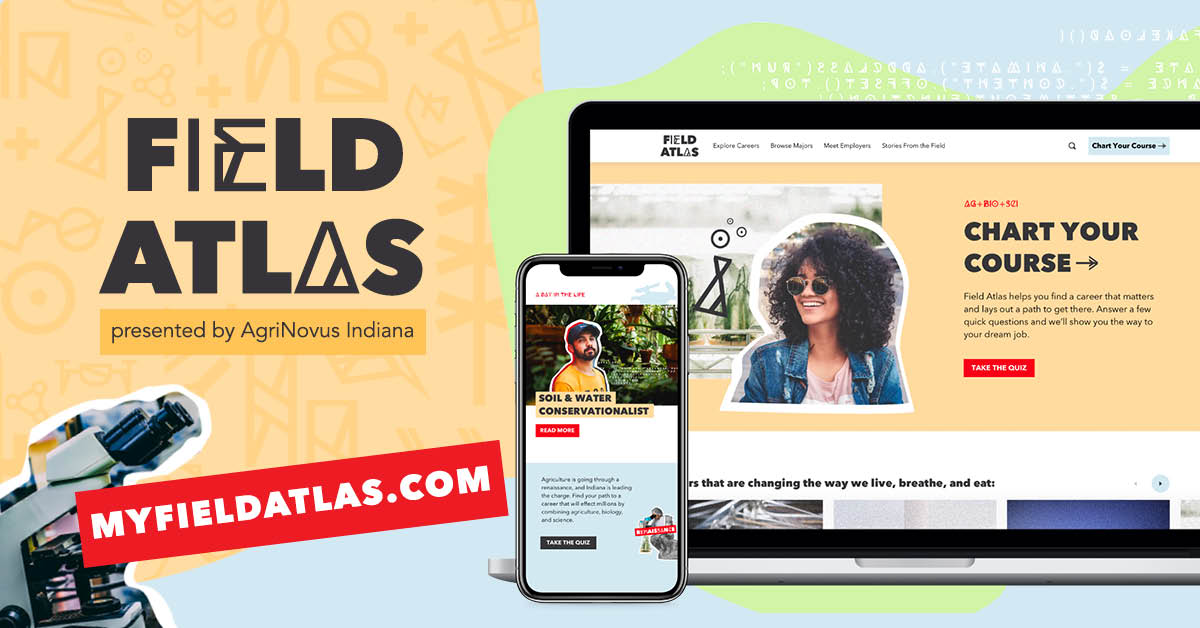 Position: Field Atlas Program Intern
Time Period: Approximately May 11, 2020 – August 21, 2020
Initiative: AgriNovus Indiana
Reports to: Field Atlas Manager
Internship Overview
AgriNovus Indiana is the state's initiative focused on advancing the agbiosciences sector as a nationally recognized leader through education, research, and talent development; strategic collaborations among corporations, industry associations, government, and universities; the creation and support of new companies; and branding and targeted promotions to elevate the sector. AgriNovus Indiana is part of the Central Indiana Corporate Partnership (CICP), an effort dedicated to the region's continued prosperity and growth.
AgriNovus will be launching an interactive career website – Field Atlas – which will compile the full spectrum of agbioscience career options for college students seeking to learn more about available careers, fields of study and also jobs and internships in the agbioscience sector.
A Field Atlas Ambassador program will start August 2020, and the role of the ambassadors is to educate students and adults about Field Atlas and careers in agbioscience.
The Field Atlas Program Intern will be an active team member focusing on projects and tasks that will continue the development and promotion of the Field Atlas website. This work may include career research, communication with high schools and colleges, assistance in the development of the Field Atlas Ambassador program, video production, and graphics work.
Finally, the Field Atlas Intern will support the Senior Director of Talent & Field Atlas Program Manager (and other AgriNovus team members as appropriate) on high priority projects and research as assigned.
Internship Responsibilities
Assist in the development of the Field Atlas Ambassador training program 
Assist in the development of materials the Ambassadors will use during their term.
Assist in the development of the Ambassador training program. This program will include training on Field Atlas, public speaking and classroom presentations, career counseling, networking, social media training, and reporting metrics.
Promote the Ambassador positions via social media and other channels until all positions are full for the August – December 2020 term.
Develop strategic career-focused contacts in statewide colleges and universities 
Research and identify positions across the state's two-year and four-year colleges and universities focused on career exploration, identification and recruitment. These may be career advisors, faculty members, department heads, student engagement officers, employer engagement officers, etc.
Connect with these identified individuals, and then develop and maintain a contact database for Field Atlas dissemination and engagement.
Research and inventory complete schedule of Indiana college and university intern/recruiting and career-related events across 2020-21
Research statewide college and university career/recruiting-related events and then develop a 2020-21 schedule for Field Atlas year-round promotion.
Assist with development of continued awareness campaign of Field Atlas 
Support the Field Atlas Manager with the development of promotional material, content, and other collateral (i.e., website, social media, print, etc.) that will be utilized in for the promotion of Field Atlas.
 Assist in additional development of the Field Atlas website
Schedule interviews with college students for video production
Assist and possibly conduct video production (based on skillset).
Preform graphics development (based on skillset).
Conduct research and planning required to add new careers.
Support the AgriNovus Team on projects and events
Throughout the summer, the team will be hosting events and developing special projects that may require assistance.
Requirements 
Excellent analytical, writing, research, and project management skills.
Excellent communications skills (written and verbal).
A detail-oriented self-starter who can be given a need or objective, break it down into executable pieces, identify questions that need to be asked, gather priorities and requirements, set and manage to milestones and then execute effectively.
Ability to work collaboratively within a team.
Proficiency in Microsoft Suite preferred.
Photography, video and graphic design skills preferred.
Details 
Manager: Field Atlas Program Manager, AgriNovus Indiana
Office location: AgriNovus Indiana (CICP offices – Salesforce Tower)
Required internship hours: full time – up to 40 hours/week
Stipend: $12/hour for undergraduate
Travel: some, but likely limited
To Apply