AgriNovus Seeks Project Lead for Youth Entrepreneurship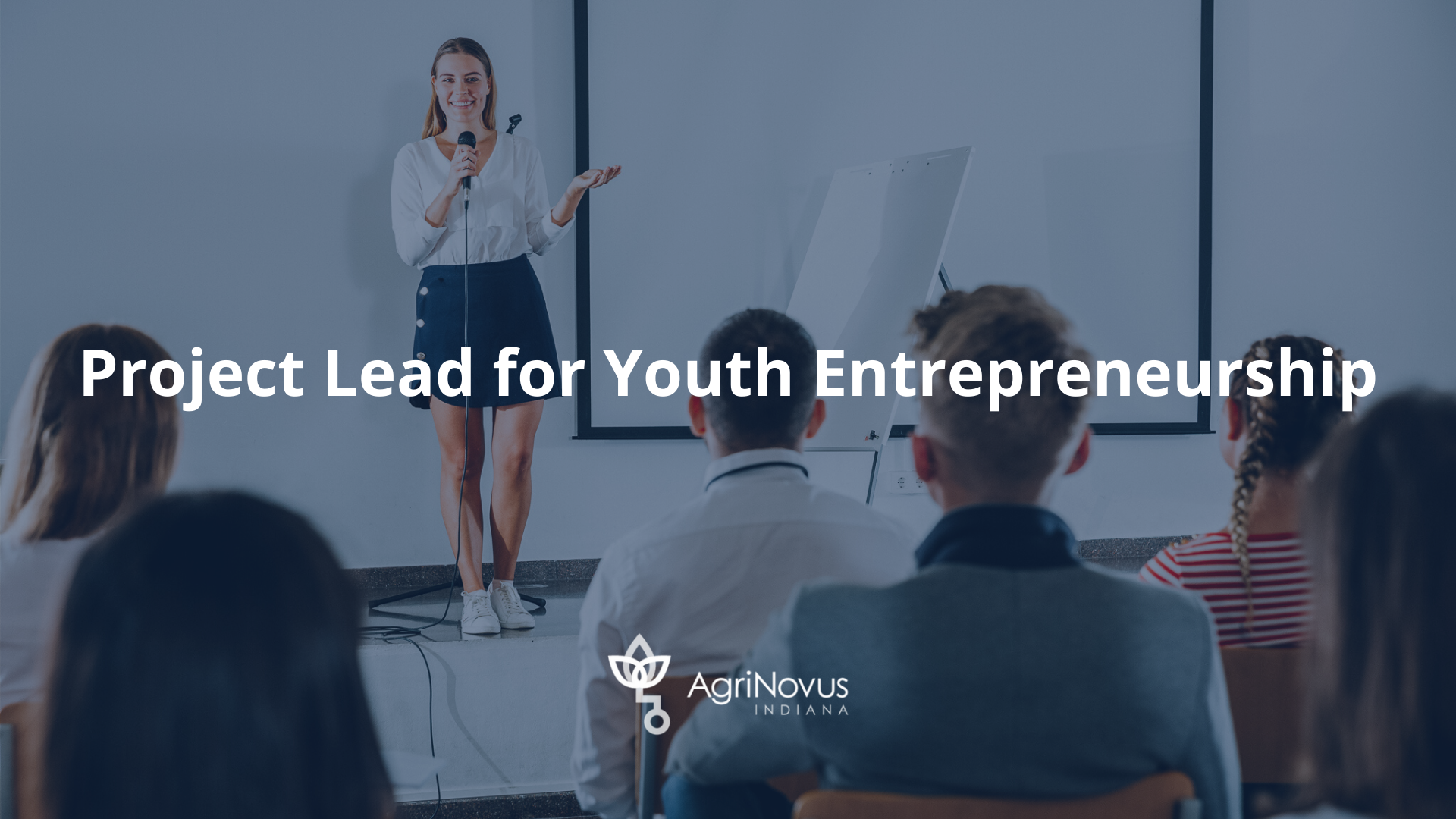 Program Manager:
AgriNovus Indiana is seeking an innovative, highly professional program manager to support the organization's ambition to cultivate a long-term pipeline of agbioscience entrepreneurs and innovation activity. This person will be responsible for working alongside the current youth entrepreneurship ecosystem to convene, connect and support programs in a way that develops and increases partnerships with collaborating organizations, builds awareness, drives best practices and builds interest in the agbioscience industries. The work will be done with direction from the AgriNovus Sr. Director for Strategy and Innovation as well as in conjunction with the AgriNovus Sr. Director for Talent.
Key Responsibilites 
Develop collaborative relationships with appropriate partner organizations in youth entrepreneurship.
Identify, communicate, support and innovate materials and programs alongside existing youth entrepreneurship programs.
Create and execute statewide activities for agbioscience youth entrepreneurship.
Maintain communications with partner organizations to highlight and promote wins in the agbioscience community along with the AgriNovus team.
Cultivate and recruit corporate mentors, volunteers, and sponsors to engage with agbioscience youth entrepreneur events.
Identify and submit funding requests for AgriNovus Youth Entrepreneurship events and collaborative events with partners.
Provide development and support for public education and awareness of agbioscience youth entrepreneurship programs.
Assist in the development of program metrics, track and report metrics
Apply for grants and other funding support sources
Work in conjunction with the AgriNovus team to manage the overall program budget.
Other duties as assigned
Requirements
Familiar with existing youth program leadership in the state or well connected to the agbioscience industry
Expertise in the development of lesson plans and interactive activities
Project management experience
Experience building and managing relationships with a wide variety of stakeholders
Strong marketing skills and familiarity with and ability to learn specific communication channels
Experience with budget and financial oversite of projects and grants.
Excellent analytical, writing, research, and project management skills.
Excellent communications skills (written and verbal).
A detail-oriented self-starter who can be given a need or objective, break it down into executable pieces, identify questions that need to be asked, gather priorities and requirements, set and manage to milestones and then execute effectively.
Ability to work collaboratively within a team.
Details
Report to: AgriNovus Sr. Director for Strategy and Innovation
Position status: contract position
Schedule/Time requirement: varies, approximately 10 hours a week. Assume this project will endure through the 2020 calendar year with potential extension according to performance and need for the work.
Office location: position will work from home and occasionally from the AgriNovus Indiana (CICP offices)
Travel: to meetings and events (mileage reimbursement provided)
Materials: Computer and phone not provided
Send inquiries and/or resumes to:
Dan Dawes
Sr. Director of Strategy and Innovation
Ph 317-379-6515
ddawes@agrinovusindiana.com