How Indiana Is Transforming The Agriculture Workforce And The Jobs Of The Future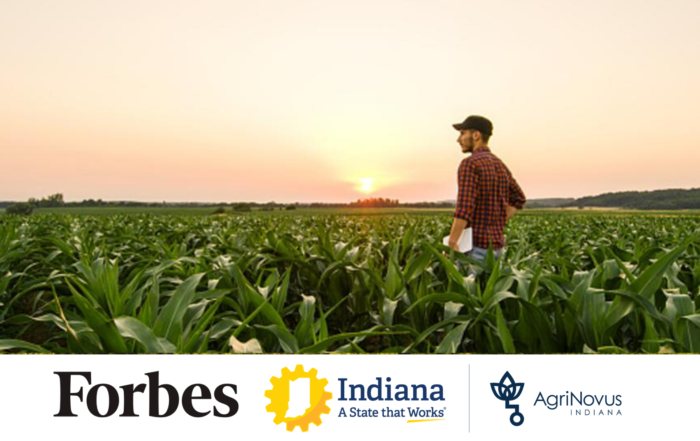 At the Agbioscience Innovation Summit in Indianapolis last November, a panel of animal agtech experts discussed industry challenges.
The moderator asked Clint Schwab, vice president of science and technology at The Maschhoffs, a sustainable pig production company, to expound upon them, asking, "You've mentioned labor and you've mentioned labor again, but beyond that, what comes next?"
"Labor," deadpanned Schwab.
The subject came up again and again during the daylong convening. What's the key factor in a startup's success? Employees. Why had a particular agbioscience company moved to Indiana? The people. What does a CEO think is the most important thing to invest in now? Talent.
In an industry where futuristic technology gets most of the attention, the biggest practical conversation the agbioscience community is having now is age-old: human capital.
Indiana isn't waiting around for the next-generation agriculture workforce to just show up. The state is already home to 75,000 highly paid agbioscience workers. The goal is for that number to grow exponentially.
Here are a few ways Indiana is reshaping its agriculture workforce today and cultivating the minds that will drive the industry into the future.
Taking A Strategic Approach To Talent
The Indiana Economic Development Corporation (IEDC), the state's lead economic development agency, and AgriNovus Indiana, the state's initiative dedicated to promoting and accelerating the growth of the agbiosciences community, are working together with a singular mission for bringing agbioscience companies to Indiana as job No. 1. But in order to attract employers, the state needs to prove it has the employees they need to thrive.
"We think a lot about next-generation talent," said Beth Bechdol, AgriNovus president and CEO, at the Agbioscience Innovation Summit.
In order to take an informed approach to talent, in 2016 AgriNovus commissioned a comprehensive agbioscience talent and workforce study. From there, it developed a talent plan and rallied multiple stakeholders across the state to act on it.
AgriNovus is now developing a web-based career exploration tool that it will launch in mid-2020. This tool, Field Atlas, will allow high school and college students to explore the agbioscience sector as a career path, and demonstrate that if students have an interest in biology, technology, web development and more, they can find a career in this sector. The goal is to get an applications-focused, experiential-based and entrepreneurial workforce ready for the ever-evolving needs of the agbiosciences.
Planting Career Seeds Early
Indiana schools are also concentrating on developing opportunities for K-12 students to imagine themselves in career fields that align with their skills and interests. Dr. Stacy McGuire, principal of Westfield High School just north of Indianapolis, spoke at the November summit about her school's efforts to get kids career-focused well before graduation.
"We're preparing kids for jobs that don't exist. They'll be using technology that has not yet been invented and solving problems that we don't even know are problems yet," McGuire said. "We have become very focused and intentional about understanding what preparation is."
Westfield High School works with students to create a two-year plan to act upon after they graduate. Rather than focusing on where they plan to go to college, the school helps them focus on what they might want to study at those schools—and on into their careers.
"We connect kids to their passion and their interests, as well as a purpose, and explain how that can relate to their future career," said McGuire. "We also provide them with career-specific experiences so they see how all of that connects together."
Inspiring Young Talent
At the 2018 National FFA Convention and Expo in Indianapolis, something unusual happened. A new exhibit was so popular that some attendees had to be turned away. But more than 4,000 FFA students had the chance to explore the high-tech, interactive experience of the Blue Room. The concept completed a second successful year in 2019 with more students going through the experience with an added focus on jobs of the future.
"The Blue Room transforms a 17,000-square-foot ballroom in the Indianapolis Convention Center into an interactive, high-tech learning experience of how science and technology are influencing the agriculture industry today with many more opportunities in the future," said Bechdol. "It's now completed two years at the convention and is very well-known nationally."
The Blue Room was an AgriNovus idea. The chic, tech-forward showroom featured companies on the cutting edge of food and agriculture. It also included a 40-foot diameter center stage where TED Talks-style presentations took place as well as an area called Startup Street where students could learn about being an entrepreneur.
"We wanted to create technology experiences for these young students who are FFA members across the country," Bechdol said.
Retooling Existing Workers
The agbioscience workers of tomorrow aren't the only ones on the receiving end of talent investment in Indiana.
"We recognize we have to grow the pool, but we need to grow our own pool," said Dan Peterson, vice president of industry and government affairs for life sciences company the Cook Group in Bloomington, Indiana.
To that end, the Cook Group has developed My Cook Pathway, an award-winning education assistance and workforce development program that pays for, and facilitates, employee education, whether it be a high school equivalency diploma or a higher education degree.
Beck's Hybrids in Atlanta, Indiana, has also been investing in its talent pool.
"We've really upped our efforts in the area of employee development over the last few years," said president Scott Beck.
Beck's offers employees a class on company fundamentals, as well as an intensive, six-month training opportunity called "bootcamp."
"[Employees] read different books, and they'll be assigned to develop and innovate a project," Beck said. "Part of that experience is that they are able to select a mentor in the company outside of their department." The goal of these interdepartmental mentorships is to increase cross-department interaction.
"We're doing a lot in that regard to break down silos and get more cross-communication," said Beck. "That's a healthier way to grow people and to grow the business."
From high schoolers to the current agriculture workforce, Indiana is investing in talent. It's an all-hands-on-deck effort, but thanks to the work of educators, business leaders and organizations throughout the state, Indiana is committed to developing the agbioscience workers of the future.