AgriNovus Indiana's Career Exploration Platform, Field Atlas, Announces Fall Class of Ambassadors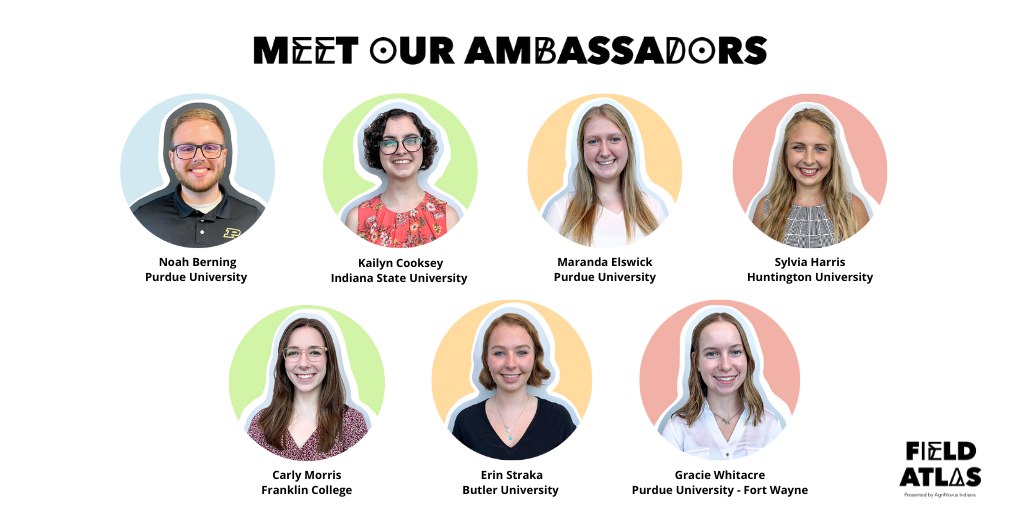 AgriNovus Indiana announced today its fall 2021 class of Field Atlas ambassadors to spark conversation about the agbiosciences on college and university campuses across the state.

Field Atlas ambassadors are college students selected to serve as on-campus connectors between students, professors and academic advisors and the Field Atlas career exploration platform (myfieldatlas.com). The ambassadors will provide information about career paths, companies and fields of study in the agbioscience industry.

For the 2021 fall semester, Field Atlas has selected these students to represent the program:
Noah Berning – Sophomore, Purdue University
Kailyn Cooksey – Sophomore, Indiana State University
Maranda Elswick – Junior, Purdue University
Sylvia Harris – Senior, Huntington University
Carly Morris – Senior, Franklin College
Erin Straka – Senior, Butler University
Gracie Whitaker – Sophomore, Purdue University – Fort Wayne
"The peer connectivity our ambassadors provide on college campuses across Indiana are what makes Field Atlas truly unique," said Mitch Frazier, president and CEO of AgriNovus. "Their efforts to engage their peers, advisors, professors and community leaders creates a powerful in-person, local catalyst to drive engagement with our online Field Atlas platform and ultimately inspire young leaders from nearly all fields of study – from software engineering to finance – to explore a career in the agbiosience industry."
Launched in 2020 and available online at myfieldatlas.com, the Field Atlas platform enables students to explore agbioscience careers through online talent assessments, videos and profiles and identifies jobs and companies that align with their personal and professional interests.
Students can access Field Atlas online at www.myfieldatlas.com.