AgriNovus is Hiring! Apply here.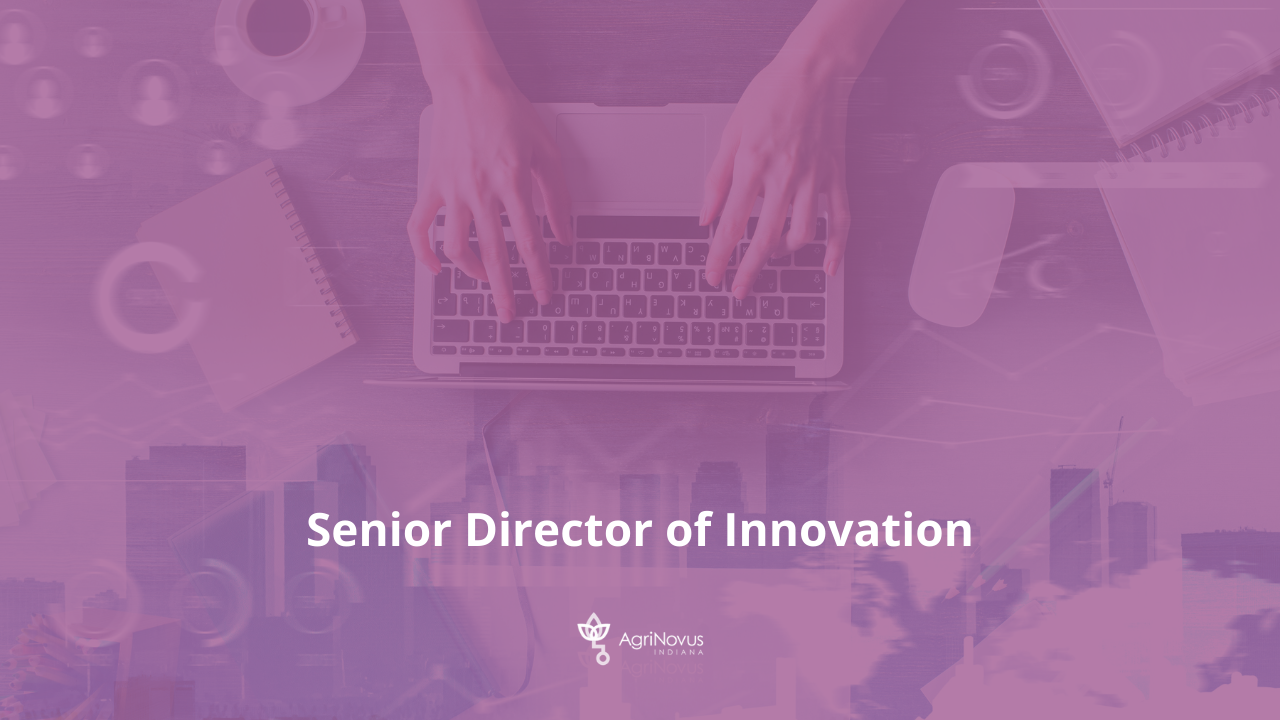 ORGANIZATION OVERVIEW
Under the Central Indiana Corporate Partnership (CICP), AgriNovus Indiana is the State's food and agriculture initiative focused on advancing Indiana as a nationally recognized leader in the agbiosciences sector – the area where food, agriculture, science and technology converge. Indiana is in an enviable position to accomplish this through the following areas led by AgriNovus:
Business Growth
Entrepreneurial Acceleration
Public Education + Awareness
JOB OVERVIEW
AgriNovus Indiana, a non-profit coalition of agbioscience leaders focused on growing the state's food and agtech economy, is searching for a proven leader to join its team to accelerate commercial innovation and company creation. The ideal candidate is driven by a purpose to make a positive impact on the industry and has demonstrated ability leading innovation challenges, partnerships and creating new approaches to use technology to reimagine systems.
As a member of the organization's leadership team, you will also serve a critical role in building coalitions across industry, academia, capital providers, governments, non-profits and donors to increase awareness of the need for agbioscience innovation and the positive momentum building across the state.
The Senior Director of Innovation reports to and supports the President and CEO.
JOB RESPONSIBILITIES
Launch and lead the HungerTech Innovation Challenge by clearly defining opportunities for tech-enabled innovation in the federal Supplemental Nutrition Assistance Program and lead a global innovation challenge to develop solutions.
Lead the AgriNovus Innovation Challenge by working with industry leaders to identify the most emergent need for innovation across the agbioscience economy and manage a challenge process to develop a solution from innovators, students, academics, entrepreneurs, companies and other interested partners.
Create and manage business case ROI tools quantifying the value AgriNovus can deliver through partnership and new engagements with companies, universities, investors and governmental entities.
Identify and prioritize the opportunities for new agbioscience technologies and global industry trends
Develop close relationships and alignment with key industry stakeholders, community partners and AgriNovus team members.
Collaborate with fellow Central Indiana Corporate Partnership initiatives (Ascend Indiana, Biocrossroads, Conexus, ESN and TechPoint) to develop cross-industry programs and engagement to fuel agbioscience innovation.
Work as a member of the AgriNovus team to cultivate and secure financial support from partners across industry, academia, government and charitable interests to fund innovation challenges and operations.
Leverage and engage your external network to ensure innovators, companies and potential partners are aware of the agbioscience innovation in Indiana.
JOB REQUIREMENTS
BA/BS business degree or a related discipline
Minimum 8+ years of relevant innovation experience
Strong preference for additional experience raising venture capital, building a startup or leading innovation challenges.
Strategic thinker that combines strong analytical skills and creative problem solving – turning concepts into actionable insights and programs.
Ability to translate vision into requirements and execute go-to-market programs and events.
Excellent time management, is entrepreneurial and a self-starter, with demonstrated ability to deliver results within condensed timeframes.
Strong project management skills: well-organized, structured approach, ability to achieve tight timelines on complex deliverables.
Demonstrated strong verbal, written and interpersonal skills combined with strong analytical and problem-solving skills.
DETAILS
Job Category: Innovation/Program Development
Manager: President and CEO, AgriNovus Indiana
Office Location: Central Indiana Corporate Partnership, 16 Tech, Downtown Indianapolis
Travel: Statewide