New Study Finds Indiana's Agbioscience Economy Now Tops $58B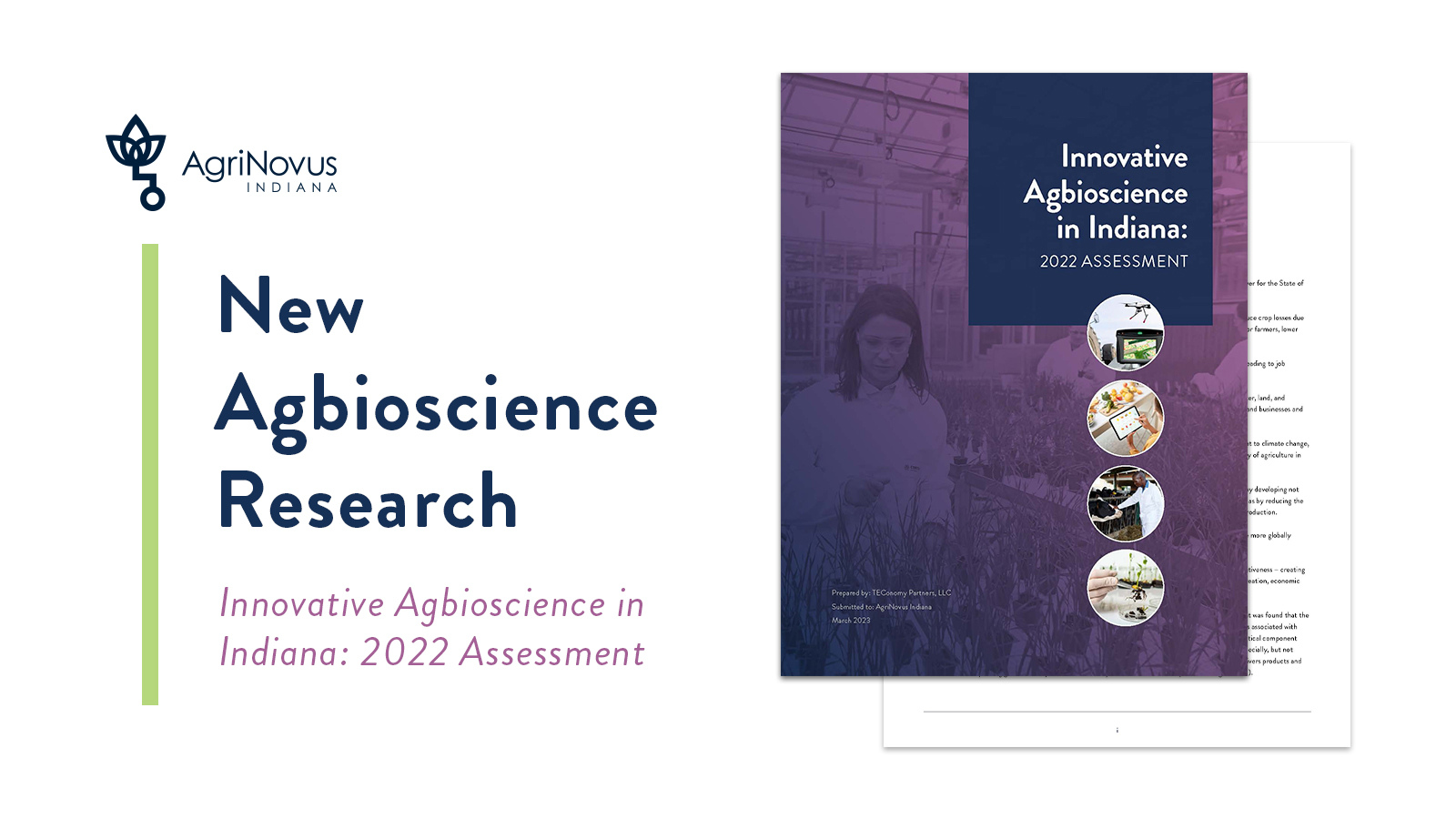 AgriNovus Indiana-commissioned study shows gains across food, animal health, plant science, agtech and production agriculture
AgriNovus Indiana, an initiative to grow the state's agbioscience economy, released new research today that found Indiana's agbioscience sector directly contributes more than $58 billion to Indiana's economy – an increase of more than $6 billion since 2018.
Conducted by TEConomy Partners, the study entitled Innovative Agbioscience in Indiana: 2021 Economic Impacts Revisited, identified that the growth across Indiana's agbioscience economy since 2018 marked the fastest-growing time for the industry since measurements to quantify it began in 2012.
"The agbioscience economy is the only economy in the world that touches every person on the planet given it centers on food," said Mitch Frazier, president and CEO of AgriNovus Indiana. "The growth this research identifies represents the tremendous gains Indiana's agbioscience innovators are advancing to meet global demand across food, animal health, plant science and agtech."
According to the study, Indiana's agbioscience economy posted growth during the period from 2018 to 2021, including:
Value-Added Food and Nutrition – increased 2 percent during the period and remains the largest component of the state's agbioscience economy with $29.9 billion in output.
Animal Health and Nutrition – increased 27.3 percent to $5.5 billion, making it the fastest-growing innovation-based platform of Indiana's agbioscience economy over the last decade.
Agricultural Equipment, Technologies and Systems – increased 16.8 percent to $2.2 billion, maintaining upward momentum as the second-fastest growing platform since 2012.
Plant Science and Crop Protection – increased 7.2 percent to $3.3 billion and posted positive growth for the first time since 2012.
"From a global pandemic to broken supply chains to rising inflation, Indiana's agbioscience sector has faced many headwinds since economic progress was last measured," said Deborah Cummings, principal and managing director for TEConomy Partners, LLC. "This update identifies sound growth across the four innovation-based platforms as well as production agriculture and should come as encouraging news as the sector continues on its upward growth trajectory."
The study shows the total economic impact of agbioscience in Indiana, including its direct output and its indirect and induced impact on other industries, grew from $76 billion in 2018 to $91 billion in 2021. Agbioscience employment in Indiana grew 7.5 percent from 2018 to 2021 and average wages of agbioscience jobs (excluding farm proprietors) topped $69,000 – a total that is more than three percent higher than the average 2021 private-sector wage in the state.
The full study, Innovative Agbioscience in Indiana: 2021 Economic Impacts Revisited, is available here. You can also register to attend one of AgriNovus Indiana's Regional Economic Updates as we discuss recommendations and how we, as a community, can continue to drive this economy forward. RSVP here.